In This Issue:
---

Follow us on Facebook
---
COME OUT AND SEE THE FUTURE GOLF STARS OF TOMORROW!


The First Annual Four Winds Invitational will be held at Blackthorn Golf Club in South Bend, IN on August 10-12, 2012. The FWI is a LPGA Symetra Tour event that will have the largest purse this tour has ever played for.
Come out and see 150 of the best women golfers in the world tee it up at Blackthorn Golf Club in South Bend this summer. Watch the stars of tomorrow in women's golf!
Tickets are on sales at fourwindsinvitational.com for only $10 and children 16 and under get in FREE!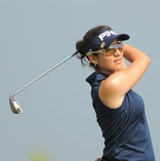 VOLUNTEERS NEEDED!
Interested in being a volunteer for this event?
If you are, please visit fourwindsinvitational.com
for more information or call Tim Firestone, General Manager at Blackthorn at 574-232-4653.
---

GOLF TIP BY RICK THOMAS, PGA LIFE MEMBER

Start with A Good Grip and Properly Fitted Clubs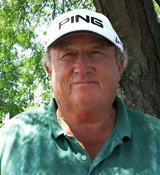 As the old saying goes, two things in life are certain "death and taxes", or in golf "hooks and slices". What we would like to do is to turn the hooks into draws and the slices into fades. So let's get started ....
Two of the most important things you need to be a successful golfer are: (a) a good grip, and (b) properly fitted golf clubs.
After many years of fitting PING golf clubs, I have found it is easier to teach players that have the right club length, the right size grips, and the proper lie angle of their clubs. Get Fit! Go to www.ping.com for their FREE club-fitting recommendation.
As for the grip, place your left hand on the grip so that you see 1/4" of the end of the club extending beyond the pad of the left hand. Then place the right hand on the club using either the interlocking grip or the overlapping grip (pinkie finger of the right hand over index finger of the left hand), forming a "V" in your right hand. The "V" in your right hand should point between your neck and right shoulder. Put a "tee" in the "V" of the right hand to check your hand position. Need more help? Call to book a lesson or for club fitting.
Rick Thomas, PGA Life Member Scherwood Golf Course & Learning Center Phone: 219-730-6064 or rtpro@822@yahoo.com


---

Contact Us


Golf Now! Chicago - info@golfclubmasters.com
Golf Now Chicago is an Endorsed Partner of the National Concierge Association.






SPECIAL JULY PROMOTION!

WIN FREE GOLF & CART, THE NEWEST SWINGBYTE TRAINING AID, AND PROFESSIONAL GOLF TIPS FOR YOU AND YOUR GUEST!


Register now for a chance to win the following:
• Free Golf and Cart for 2 at Orchard Valley Golf Course in Aurora, IL
"6th Best Golf Course in Illinois by GOLF Magazine"
• New Swingbyte Training Aid for You and Your Guest
• And...Personal Swingbyte Demo by Founder and former Illinois Open champion, Brian Payne
SWINGBYTE MAY JUST BE THE SECRET TO A BETTER GOLF GAME!

Swingbyte is a revolutionary golf training device that weighs less than one ounce, attaches to any club, and wirelessly transmits key information about your swing to your Apple or Android smartphone or tablet. Swingbyte was co-founded by three colleagues from the University of Chicago MBA program, including former Illinois Open champion, Brian Payne.
For more information about Swingbyte and to place an order, please visit www.swingbyte.com.


ALL ENTRIES WILL BE AUTOMATICALLY ENTERED FOR A CHANCE TO WIN OUR GRAND GIVEAWAY TO QUARRY PINES GOLF CLUB, SELECTED ON NOVEMBER 30, 2012.


---



FEATURED GETAWAYS TO STAY, PLAY AND CELEBRATE IN STYLE!


A picture perfect drive awaits you at 2 top-rated courses--Blackthorn Golf Club in South Bend, IN and The Warren Golf Course at Notre Dame, IN ... a short drive to the first tee! Tee it up where the Irish play and stay in the heart of Notre Dame!



BLACKTHORN GOLF CLUB
(574) 232-4653 • blackthorngolf.com


• No. 1 Best Municipal Golf Course in Indiana -- GOLFWEEK Magazine, 2009

• No. 39 Best Municipal Golf Course in the U.S. -- GOLFWEEK Magazine, 2009





THE WARREN GOLF COURSE AT NOTRE DAME
(574) 631-4653 • warrengolfcourse.com


• Host of the 2010 U.S.
Women's Amateur Public
Links Championship

• No. 2 Best Public Golf
Course in Indiana
--GOLFWEEK Magazine, 2008

• Host of the 2010 NCAA Men's Regional Golf Championship


FOUR FABULOUS HOTELS TO STAY IN STYLE!



Inn at Saint Mary's Hotel & Suites
(574) 232-4000 • innatsaintmarys.com

• Luxury Designed With Your Experience In Mind
Hilton Garden Inn South Bend
(574) 232-7700 • hiltongardeninn.hilton.com

• Everything. Right Where You Need It.



The Morris Inn
(574) 631-2000 • www.themorrisinn.com

• Serving as the gateway to the beautiful campus of the University of Notre Dame and setting the standard for unprecedented hospitality.



Ivy Court Inn and Suites
(574) 277-6500 • www.ivycourt.com

• Your Clubhouse After the Final Round.


---
MISTWOOD GOLF CLUB IS OPEN!
It is time to again enjoy, Mistwood Golf Club -- an absolute "must play" Chicagoland-favorite golf course this season. The course re-opened on June 15 to lots of exciting changes!
The team at Mistwood took every comment you provided, added some of their own, then gave them to the original golf course architect, Ray Hearn. What he created from a stew pot of ideas will astound you!! You'll experience ...
19 new sod wall St. Andrew's style bunkers

The third hole par 5 has been completely redesigned

New golf course features including new golf range

Aesthetically amazing with new stone walls and bridges

All bunkers redesigned using the best sand in the industry

Enhanced hole surrounds that add more options to play the hole

Strategically placed tees adding length -- Mistwood is now over 7,000 yards!

Cart paths, drainage, irrigation, the list is endless
Call 815-254-3333 to make a tee time or visit

www.mistwoodgolf.net

.