Dear Concierges and Hospitality Professionals,
We at Golf Now! Chicago hope you enjoyed the first issue of our exclusive
Concierge Golf Network Newsletter -- "Connecting Our World Through Hospitality & Golf".
If you missed the first issue, you can read the entire newsletter on-line at
www.golfnowchicago.com
under our Newsletter section.
All of our newsletters will be on-line for your quick reference. Refer to them often when you have a need for a special golf rate or discounted price to pass on to your customers, guests and clients.
Also, feel free to contact us directly if you have a golf question or a special golf-related need.
Cheryl Justak
Golf Now! Chicago
, Chicagoland's Premier Golf Destination Guide
Celebrating 10 Years of Delivering Excellence!
THE NEWEST ADDITION TO OUR "CONCIERGE GOLF SPECIALS" PROGRAM

Would you like your guests, clients and customers to experience a golf course rolling out the green carpet for them on their next round of golf?
Ravisloe Country Club
, located in Homewood, Illinois is offering an experience your guests will be sure to remember. Once a private exclusive country club, this fabulous facility that is open to the public will provide a country club experience for sure. Also, located directly across from the Amtrak/Metra Train Station in Homewood, Ravisloe will pick up your guests from the train in a golf cart and take them to the first tee on the course! Or the 5 minute walk from the train is a great way to save on gas and leave your car at home.
Ravisloe Country Club
, a partner with us at Golf Now! Chicago is offering a special rate for Concierges and their guests.
2012 CONCIERGE & HOSPITALITY PROFESSIONALS GOLF OUTING HIGHLIGHTS

If you didn't have a chance to make it to this year's annual Concierge & Hospitality Professional's Golf Outing, you definitely missed a great day of fun and sun. The weather could not have been better for golf, and our gracious hosts,
Nick Halikias, Ed Staffan
, and the
entire Halikias Family
at the
Odyssey Country Club
in Tinley Park, IL outdid themselves in every way. The hospitality they extended to everyone, as well as a fabulous golf course, beautiful clubhouse, fantastic food and beverages prepared by Executive Chef,
Alex Ottman
, and the service provided by the entire staff at the Odyssey Country Club & Odyssey Fun World were top notch!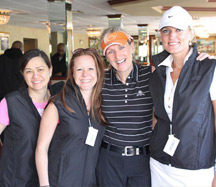 We had the
BEST TURNOUT EVER
with a total of 70 in attendance -- 50 golfers and 20 who attended the golf clinic, enjoyed the putting contest and experienced fun times at the Odyssey Fun World adjacent to the golf course. All golfers and those who attended the clinic received a
GOLF NOW! Chicago
-logo windbreaker golf vest.
Thanks to our Hole Sponsors, Prize Sponsors and Raffle Sponsors for helping us make this event so successful. A special thank you to
Kathy McClanathan
(President of the CHCA & Concierge, Talbott Hotel),
Cheryl Rule
(Concierge, Sutton Place Hotel),
Paula Fortney
(Chef Concierge, The Sheraton Chicago Hotel & Towers),
Jackie Berry
(Concierge Supervisor, Sofitel Hotel), and
Sylvia Rollins
(Intercontinental Hotel) for their ongoing support and for their involvement in helping us with Hole, Sign, Prize and Transportation Sponsors.
Also, our thanks to
Chris Thomsen
, Director of Operations,
Metropolitan Limousine
for sponsoring our transportation this year. Wow! Talk about arriving and departing from the golf course in style! The team at Metropolitan Limousine could not have been more accommodating and gracious. Their vehicles are first-class and the personal driver was so accommodating that he stopped the vehicle on the way out to let us take a group photo in front of the Odyssey Country Club. He even took a few pictures for us!
---
Also, a special thank you to Pete Doherty of Doherty Images for the great photography provided to capture the good times had by all.

Lastly, a special thank you to all who attended and participated. We had some new golfers and concierges attending this year who were interested in learning more about the game. We hope you had a great time!
---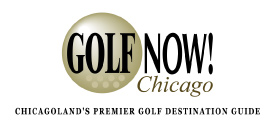 If you have any questions about the specials or information in this newsletter or on our website at www.golfnowchicago.com, please contact me at (219) 730-9132. I look forward to working with you to serve your clients!
IN THIS ISSUE
UPCOMING EVENTS & TOURNAMENTS

U.S. Women's Open
July 2-8
Blackwolf Run
Kohler, WI

More upcoming tournaments

2012 GOLF OUTING - SPECIAL THANKS


We'd also like to recognize a new sponsor to our event -- Rene' Laurent Hamm of HUGO BOSS & THE BOSS GREEN Collection as well as a new Affiliate Member of the NCA. Rene attended the reception and provided some fabulous gifts from his Boss Green Golf Collection that were used for our raffle. The gifts were packaged beautifully and the recipients were excited to win these wonderful gifts!


Below are Rene' Laurent Hamm's comments about the outing from Facebook
It was a perfect day for golfing at the 2012 Concierge & Hospitality Professionals Golf Outing, June 5th at the beautiful Odyssey Country Club. There were many wonderful prizes, including some items from the HUGO BOSS Green Collection. The collection represents premium sportswear and does away with the boundaries between fashionable leisurewear and functional golf-wear. Thanks to Cheryl Justak, publisher of GOLF NOW! Chicago, for putting together such a great event. Also, a special thank you to Pete Doherty for providing pictures from the event. If you're ready to tee off in style, come visit me at our store on Michigan Ave. The collection combines fashion, lifestyle and golf and offers expressive looks in strong colors for men and women. - Rene' Laurent Hamm
If you enjoyed the outing, please visit us on FACEBOOK and let us know!

---
Special recognition goes to Ryan Brown, General Manager of Shula's Steak House located in the Sheraton Chicago Hotel & Towers. Ryan drove from Indianapolis that morning of the outing, to be able to attend the event. The Sheraton Chicago Hotel & Towers continues to be a great supporter and participant of this event.




We had a special guest and friend who is a well-known sports writer in Chicago for over 40 years. Len Ziehm, recently retired from the Chicago Sun-Times and avid golfer, joined us this year for the event.
USE GOLF NOW! CHICAGO FOR ALL YOUR GOLFING NEEDS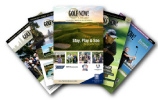 Call me, Cheryl Justak, at Golf Now! Chicago (219) 730-9132 or visit our website golfnowchicago.com for our eMagazine on the homepage. It has all the courses we talked about, photos, descriptions, course stats and much more. We can help you if you have questions, etc. You can also print up a copy of the directory under the Courses Section if you need a list of all the area courses.